Upcoming Book Tour Schedule
Check back often as we confirm our destinations, venues and times. Actual route, destinations, venues, and times subject to change.
* = Planned but not confirmed.
2018-2019 SUMMER/FALL TOUR DATES…
Transatlantic Western Pursuit Cruise from Barcelona, Spain to Miami, Florida aboard the luxury Azamara liner 'Pursuit'
Nov 6-20. Click for more details on cruise.
Festa Italiana at Seattle Center in Seattle, WA
Sept 29-30 from 10:00am-7:00pm
Historic Flight – Battle of Britain Day in Everett, WA
Sep 15 from 10:00am-5:00pm
Rocky Mountain Museum of Military History in Missoula, MT
Aug 24 at 7:00pm
2017-2018 TOUR DATES…
Magnolia's Bookstore in Seattle, WA
Aug 5 at 2:00pm (introducing America Invaded)
Aunties Bookstore in Spokane, WA
Aug 18 at 1:30pm
Fact & Fiction Books in Missoula, MT
Aug 19 at 10:30am
Rocky Mountain Museum of Military History in Missoula, MT
Aug 19 at 2:30pm
Country Bookshelf in Bozeman, MT
Aug 21 at 2:00pm
Wind City Books in Casper, WY
Aug 22 from 2:00-4:00pm
Watermark Books in Wichita, KS
Aug 25 at 6:00pm
Prospero's Bookstore in Kansas City, MO
Aug 26 at 2:00pm
I Know You Like A Book in Peoria, IL
Aug 27 at 2:00pm. Read Journal Star article.
Michigan Military Heroes Museum in Frankenmuth, MI
Aug 29 (tbd)
Poland Library in Poland, OH
Aug 30 at 2:00pm. Read Vindy.com article
Battleship New Jersey in Camden, NJ
Sept 3*
Italian American presentation in Freehold, NJ
Sept 7 at 7:00pm (Lemon Restaurant)
Showmasters Gun Show in Norfolk, VA
Sept 9-10 Sat 9am- 5:00pm & Sun 10:00am-5:00pm
Fort McCoy Public Library in Ft. McCoy, FL
Sept 13*
Gen George Patton Museum of Leadership in Fort Knox, TN
Sept 14 at 11:00am
Belleview Public Library in Belleview, FL
Sept 14 at 3:30pm*
Dunellon Public Library in Dunellon, FL
Sept 15 at 2:00pm*
Pea Ridge Battlefield Bookstore in Garfield, AR
Sept 17 at 1:00pm
Garden District Bookshop in New Orleans, LA
Sept 19 from 6:00-7:30pm
Houston Italian and Community Center in Houston, TX
Sept 20 (tbd)
Battleship Texas in La Porte, TX
Sept 21*
Festa Italiana at Seattle Center in Seattle, WA
Sept 23-24 from 10:00am-7:00pm
Chetco Public Library Brookings, OR
Sept 27 at 6:00pm
Village Books in Bellingham, WA
Sept 28 at 7:30pm (Fairhaven location)
Lynden Pioneer Museum in Lynden, WA
Sept 30 (tbd)
Great Italian Festival in Reno, NV
Oct 7-8 (tbd)
Pacific NW Book Association in Portland, OR
Oct 9-10 (tbd)
Palazzo Tornabuonni in Florence, Italy
Nov 24 (tbd)
Brick & Mortar Books in Redmond Town Center, WA
Jan 5 at 7:00pm
Flying Heritage & Combat Armor Museum in Everett, WA
Jan 6 from 2:00pm-4:00pm
---
---
September 11th Articles and Interviews from the Road


VP Pence, Gov. Wolf Remember Victims Of 9/11 At Flight 93 Memorial
By KATHLEEN J. DAVIS & JOE MANDAK | ASSOCIATED PRESS • SEP 11, 2017.
READ MORE…
Remembering The Citizen Warriors of Flight 93
By CHRISTOPHER KELLY | THE DAILY CALLER • SEP 11, 2017.
READ MORE...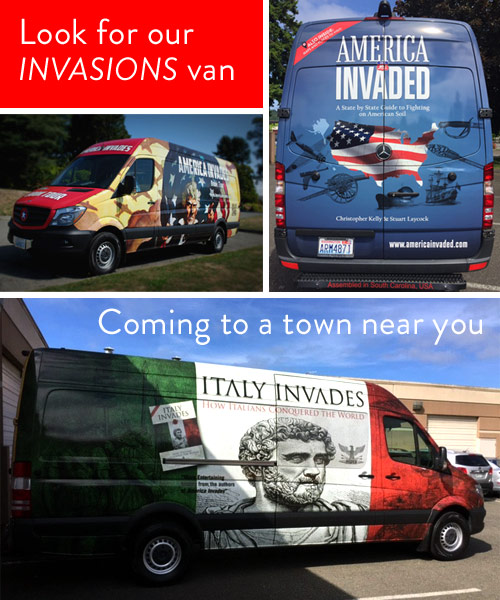 Author Interviews
We continue to book interviews on radio and television en route to our tour destinations. Check back often to see what we're on next!
KTRS: July 4, 2017
---
The John Gibson Show: July 18, 2017

---
GoLocal Live: August 9, 2017
---
MILITARY HISTORY NOW: August 15, 2017

---
THE HISTORIANS–BOB CUDMORE: August 25, 2017
---
CHRIS STIGALL SHOW: August 30, 2017
---
---
---
News Now 94.9 WJJF: SEPTEMBER 11, 2017
---
KUAF 91.3 NPR: SEPTEMBER 13, 2017

---
KATU CHANNEL 2: OCTOBER 10, 2017

---
MONEY RADIO 1510 AM: NOVEMBER 8, 2017

---
THE DONNA SEEBO SHOW: NOVEMBER 8, 2017
---
Talkback w/ Chuck Wilder: DECEMBER 7, 2017
---
Todd Pazz SUNNY 101.9 FM: DECEMBER 8, 2017
---
Lisa Mullins WBUR 90.9 FM: AUGUST 17, 2018

---