Upcoming Book Tour Schedule
Check back often as we confirm our destinations, venues and times. Actual route, destinations, venues, and times subject to change.
* = Planned but not confirmed.
Magnolia's Bookstore in Seattle, WA
Aug 5 at 2:00pm (introducing America Invaded)
Aunties Bookstore in Spokane, WA
Aug 18 at 1:30pm
Fact & Fiction Books in Missoula, MT
Aug 19 at 10:30am
Rocky Mountain Museum of Military History in Missoula, MT
Aug 19 at 2:30pm
Country Bookshelf in Bozeman, MT
Aug 21 at 2:00pm
Wind City Books in Casper, WY
Aug 22 from 2:00-4:00pm
Prospero's Bookstore in Kansas City, MO
Aug 26 at 2:00pm
I Know You Like A Book in Peoria, IL
Aug 27 at 2:00pm
Michigan Military Heroes Museum in Frankenmuth, MI
Aug 29 (tbd)
Library in Poland, OH
Aug 30 (tbd)
Battleship New Jersey in Camden, NJ
Sept 3*
Italian American presentation in Freehold, NJ
Sept 7 at 7:00pm (Lemon Restaurant)
Showmasters Gun Show in Norfolk, VA
Sept 9-10 Sat 9am- 5:00pm & Sun 10:00am-5:00pm
Fort McCoy Public Library in Ft. McCoy, FL
Sept 13*
Belleview Public Library in Belleview, FL
Sept 14 at 3:30pm
Dunellon Public Library in Dunellon, FL
Sept 15 at 2:00pm
Garden District Bookshop in New Orleans, LA
Sept 19 from 6:00-7:30pm
Houston Italian and Community Center in Houston, TX
Sept 20 (tbd)
Battleship Texas in La Porte, TX
Sept 21*
Festa Italiana at Seattle Center in Seattle, WA
Sept 23-24 from 10:00am-7:00pm
Chetco Public Library Brookings, OR
Sept 27 at 6:00pm
Village Books in Bellingham, WA
Sept 28 at 7:30pm (Fairhaven location)
Lynden Pioneer Museum in Lynden, WA
Sept 30 (tbd)
Great Italian Festival in Reno, NV
Oct 7-8 (tbd)
Pacific NW Book Association in Portland, OR
Oct 9-10 (tbd)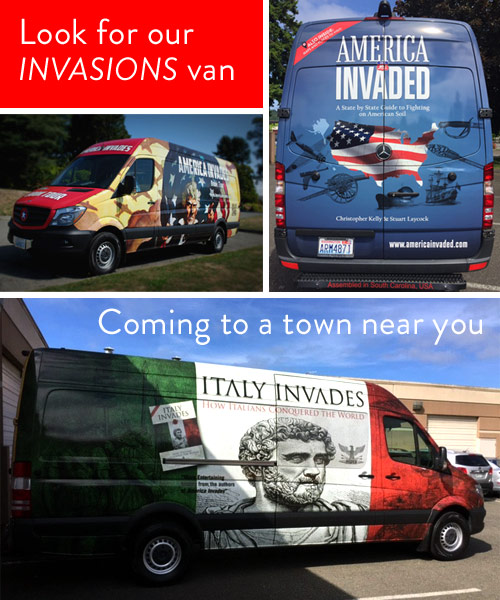 Author Interviews
We continue to book interviews on radio and television en route to our tour destinations. Check back often to see what we're on next!
KTRS: July 4, 2017
---
The John Gibson Show: July 18, 2017

---
GoLocal Live: August 9, 2017